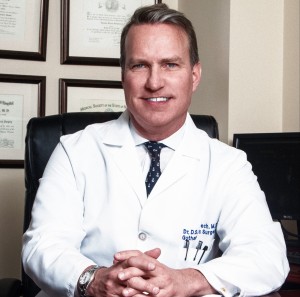 Born and raised in a small farm town in Iowa just outside Cedar Rapids, Dr. Steinbrech has a passion in the field of plastic surgery like no other doctor. He attended college at the University of Iowa for both his undergraduate (B.S. Biology with honors) and MD (medical doctor) degrees.
Specialty includes: Male Plastic Surgery in NYC
Now an iconic figure in the city of New York, he gives us an insight into his life in the Big Apple.
 "Dr. Steinbrech admits NYC is the greatest in the world!"
Why did you go into the specialty of plastic surgery for men?
While in the early years of medical school, I began to research specialties, I also realized that plastic surgery was like no other medical specialty – it was a unique marriage of skills where technique and creativity join together.
How has the trend changed for men?  It used to be the gym, why do plastic surgery?
For most men, plastic surgery is an extension of what they do in the gym. One trend we see is people are considering procedures because of the role they play in the public eye. For example, models, musicians, and actors are among the population of people concerned with maintaining their outward appearance. We are also seeing more and more fathers who have spent the last several years of their lives focusing on raising a family and now feel that they want to re-focus on their health and appearance, just like mothers. Another area of growth is the CEO's and Boardroom Executives. This group of men are finding themselves across the table from younger executives who are fit and have a strong appearance, and in many cases they feel maintaining their physical appearance gives them a competitive edge in the boardroom.
You have been featured in books, and have done conferences on the subject.  What makes you the best plastic surgeon for men?
I understand men. I think that is the most important part. I have a very high volume of men come through my practice and the number of men I see continues to increase. Over the years of focusing on men, I have learned a lot and adjusted my technique to tailor results to their desires. My goal as a surgeon is always to continue to innovate and offer my patients the best possible outcomes through advances in technology and technique. I am very honored to be working with CRC Publishing, Inc. to put together the first textbook focusing solely on male plastic surgery. It's slated to be out in the Fall of 2016 and I hope it will be a great help to other surgeons who are bringing procedures to the men in their communities.
What places are the best for you to shop and dine in the city?
I love NYC shopping – but I have to say my favorite places are Ralph Lauren, J Crew, or anything I see in Soho. Of course living in NYC, we have every kind of restaurant anyone could ever want, but like shopping, I have my favorites. If I am downtown, I always try to dine at Pastis and when I am uptown my favorite place is the restaurant inside the Mark hotel.
There are three Myths about plastic surgery I want people to better understand:
1. All plastic surgery is bad. Plastic surgery is only bad if it is overdone, and in my practice we want patients to have a natural look when it's all said and done. Plastic surgery can be very good if it is unnoticeable; which is exactly what we focus on. Natural results.
2. Plastic surgery does not mean you don't diet and exercise. Most people think that people who get plastic surgery are lazy or don't want to work and take care of their bodies. This could not be farther from the truth. Some of my very best patients live very healthy lifestyles. They eat healthy, exercise regularly and get plenty of rest.
3. Fat should be "lasered" out and thrown away. There are so many good uses for our own fat I hate to hear when it gets discarded. I have developed a technique called BodyBanking (Patent Pending) involves saving that fat and putting it into your biceps, pecs, breast and bottom's. It creates natural volume and it helps prevent the patient from getting a bulging tummy if they put on a few pounds after surgery.
By Rebeca Herrero