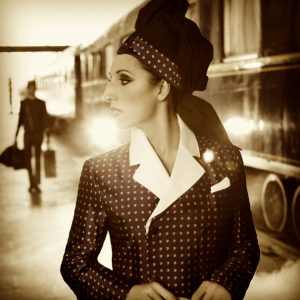 Rossy de Palma and Jessica Mitrani's talents merge  in Traveling Lady
Part performance and part film, the Nellie Bly legend is revived in this artistic performance
By Rebeca Herrero
Rossy de Palma's name may be familiar, or memorable. Maybe not. But her face certainly is.
When we think of Rossy de Palma, images hark back to Pedro Almodóvar's string of subversive and funny, surreal movies based on universal characters with a taste for Madrid. Almódovar created memorable characters and a sense of place with Kika, ¡Atame!, (Tie Me Up! Tie  Me Down!), Tacones Lejanos and Mujeres al Borde de un Ataque de Nervios (Women on the Verge of a Nervous Breakdown). And the unmistakable face of Rossy de Palma, a common denominator in many of these films, is certainly a muse a great artist could integrate in an installation filled with the absurd and fantasia.
On the scene arrives the Colombian artist, Jessica Mitrani. Her experimental take on black and white, part fable and universal art is what made De Palma participate in this successful project.  Part installation, part film, De Palma is the protagonist of this live multimedia performance, The Traveling Lady, which was recently presented at the Florence Gould Hall in New York City.  Co-presented by the French Institute Alliance Francaise (FIAF) and the Hermès Foundation (Fondation d'entreprise Hermès) New Settings as part of FIAF's 2014 "Crossing the Line" festival, Traveling Lady vowed performance-art aficionados in Manhattan for two evenings.
Born in Colombia, New York-based visual artist Jessica Mitrani employed the excessive, the absurd, and melodramatic magic-realism effects in audacious works that spanned performance, video, and sculpture.  With Traveling Lady, she conjured the daring spirit of Nellie Bly, the 19th-century American journalist who circled the globe in 72 days, carrying little more than clothes on her back.
Part performance, part film, Traveling Lady mapped a journey at once physical and psychological, earthly and cosmic.  De Palma plays several roles as she challenges social and gender dynamics in this fantastical, subversive world.  Her costumes were designed by renowned avant-garde fashion collective threeASFOUR.